Elhanan Harkavy
M, b. 11 May 1846, d. 26 April 1916
     Elhanan
Harkavy
was born in January 1842 at
Nowogrudok
; month per 1900 Census. He was born on 11 May 1846; per his Dor Yesharim. He was the son of
Iosel

Garkavy
and
Tzirl Epstein

Garkavy
. Elhanan Harkavy married
Feyge Yablonski

Harkavy
circa 1860. Elhanan Harkavy married
Devorah Vishneski

Harkavy
, daughter of
Aharon

Vishneski
, circa 1891 at
New York, New York
; per 1900 Census. Elhanan Harkavy died on 26 April 1916 at
1365 42nd Street, Brooklyn, New York
, at age 69; died at age 75 after a long illness; born Novogrudok; interred in Union Hill Cemetery; survived by two sons, Alexander and Solomon; three daughters, Mrs Rebecca LURIA, Mrs Hannah RIKOON, Mrs Pesel SOLATAROFF; brother Alexander of the Bronx and sister Mrs Bertha WOLLINSKY; NY death certificate 9208 has given name as Hanon, father as Joseph HARKAVY and mother as Sarah; buried in Union Fields Cemetery.
     He lived in 1880 at
Warsaw, Poland
. He immigrated on 20 August 1891 to
New York
; as Ch. ARKOWY, age 49; aboard Westernland, with daughter Rebeka ARKOWY. He appeared on the census of 6 June 1900 at
221 Madison Street, New York, New York
; as Hyman HARKAVY, Hebrew teacher; wife Dora HARKAVY; immigrated 1891. He was published Dor Yesharim in 1903 at
New York, New York
. He appeared on the census of 26 April 1910 at
1217 39th Street, Brooklyn, New York
; as Harren HARKAWAY, age 65; wife Dora HARAKAWAY, age 57; occupation school teacher.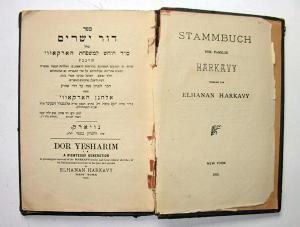 Dor Yesharim, Stammbuch der familie Harkavy, by Elhanan Harkavy (1842-1916), New York, 1903