Bella Segalowsky Harkavy
F, b. circa 1866, d. 27 March 1930
     Bella Segalowsky
Harkavy
was born circa 1866; age at death 64. She married
Alexander S.

Harkavy
, son of
Iosel

Garkavy
and
Freida

Klebaner
, on 22 December 1889 at
Montreal, Canada
. Bella Segalowsky Harkavy died on 27 March 1930 at
2712 Decatur Avenue, Bronx, New York
; as Bella HARKAVY, aged 64; housewife; married; in US 46 years; father Benjamin SAGALOFSKY, mother Rachel SAGALOFSKY; buried Mount Carmel cemetery on 30 Mar 1930; NY death certificate 2688.
     She was Bella Segalowsky was born in Lithuania in 1866 to an elite family in Russian Poland. Her father had been the dayan (associate rabbi) and a lavnik (alderman) of his municipality. His daughter was given the best education available in the town at the time: she was sent to the Russian parochial school of the town and learned Jewish lore and German from private tutors. She began teaching at 14 and was a noted needleworker.
In 1884, when she was 18, Bella Segalowsky attempted suicide after having been jilted by her boyfriend and intended husband. She had given him 70 rubles to immigrate to America and prepare a life for them. A few years after his emigration, receiving ever-fewer letters from him, Bella decided to go to New York herself, where she found her boyfriend engaged to another girl. Bella's suicide attempt became the subject of several newspaper articles, printed in such papers as The World, The Morning Journal, The New York Times, The New York Herald, The Sun, The Tribune, The New York Commercial Advertiser, The Star, Courier des Etats-Unis, New-Yorker Staats-Zeitung, New-Yorker Volkszeitung, and the Yiddische Volkszeitung. After being rescued from her leap off the pier at Castle Garden, New York, Bella was placed under arrest (suicide being illegal at the time), but the charges were eventually dropped.
Bella met her future husband because of the publicity from this case. A friend of her relatives, Alexander Harkavy sent her "a message of comfort and encouragement to new hopes for happiness in life." He became her English teacher, and three years later they married. She appeared on the census of 25 April 1910 at
E. 110th Street, New York, New York
. She appeared on the census of 8 January 1920 at
2179 Washington Avenue, Bronx, New York
.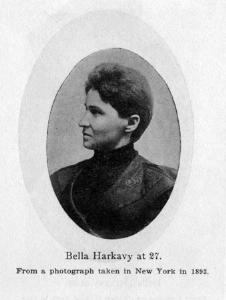 Bella Segalowsky Harkavy at age 27 (c. 1893)